Loading...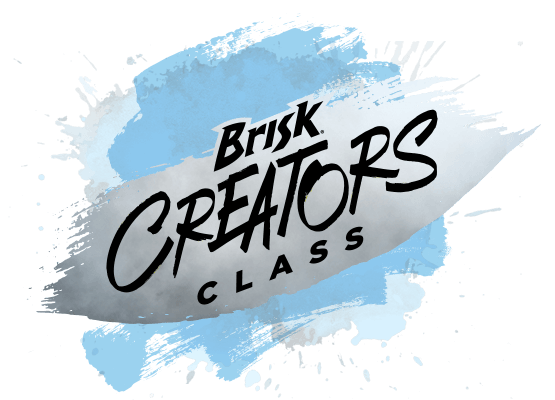 APPLICATION RULES
Clarification: Any use of a Portfolio will be credited to the applicant who submitted it. We may use your submission in connection with the program, including to promote it and its sponsors, and may share your submission as part of the program.
By applying for a chance to participate in the Brisk Creators Class program (the "Program"), you agree to comply with these Rules. Any noncompliance with the Rules will result in your application being deemed ineligible. PLEASE READ THESE RULES.
Application Entry Period. The application entry period will begin on 12:01 AM [EST] on [8/6/18] and end on 11:59 PM [EST] on [8/20/18] ("Application Entry Period").
Eligible Applicants. Only individuals who are at least eighteen (18) years old or the age of majority in their state of residence, and who are legal residents of the 50 United States or the District of Columbia are eligible to apply for a chance to participate in the Program. Applications from in-eligible individuals will be rejected.
Complex Decisions. Complex's decisions regarding these Rules, any applicant, or the Program shall be final and binding. Complex reserves the right in its sole discretion to disqualify any individual who: (1) does not comply with these Rules; (2) tampers with the application process, or the operation of any websites or systems used to administer the application process; or (3) who otherwise acts to or attempts to act to disrupt the application process or undermine the Program's legitimacy in any way. If the operation or administration of the application process is impaired or thwarted in any way for any reason, including, but not limited to, fraud or technical problems, Complex may in its sole discretion: (1) terminate the Program; (2) suspend and/or reschedule the Application Entry Period; or (3) modify these Rules in order to accommodate the impairment or disruption.
How to Apply.
You may apply for a chance to participate in the Program by uploading your portfolio ("Portfolio") to the following website (www.briskcreatorsclass.com) and following further instructions there. Uploaded materials will not be returned or stored; please retain your own copies.
Portfolio Requirements.
Portfolio Subject Matter: Your Portfolio must be an example(s) of your original comic (or comic-inspired) artwork. Your Portfolio should include a summary that answers these questions: What is your project? What is your inspiration behind the project?
Portfolio Technical Specifications: Your Portfolio should be uploaded in one of the following accepted formats: PDF, JPEG, or Web link. Your Portfolio must not exceed three (3) pages and/or a maximum file size of 8MB.
All Portfolios must meet the following Portfolio Rules, and by submitting a Portfolio, you represent and warrant that your Portfolio complies with the Portfolio Rules. Any Portfolio not satisfying the Portfolio Rules will be deemed ineligible Portfolio. Portfolios must:
Be on-topic. Don't include commercial content such as ads or solicitations for funds.
Be safe. Don't send in content showing anyone engaging in physically risky conduct or trying to injure another person. We want to see your creativity, not your fighting skills.
Be legal. Don't send in content showing anyone engaging in illegal or inappropriate conduct, or encouraging people to violate the law.
Be your original content, created by you. Do not submit for a friend without their permission! Don't submit content that has been submitted to prior mentorship programs or to any contest! Mechanically reproduced, software-generated, or automated entries are not eligible.
Be respectful of other people's privacy and intellectual property rights. Do not include music, photos, or any other materials that you do not have permission to include in your content.
Be suitable for public viewing. Do not send us anything that is obscene, offensive, discriminatory, abusive, or that contains inappropriate content (as deemed by Complex in Complex's sole discretion). Also do not send us anything that you do not wish to be made public.

Complex reserves the right to allow for minor deviations from the Portfolio Rules on a case-by-case basis, as determined by Complex in its sole discretion.

Non-Confidential. Complex will treat Portfolios as non-confidential and non-proprietary. By entering your Portfolio, you understand that Complex may use any ideas, concepts, know-how, or techniques contained in your Portfolio without any compensation or obligation to you, and for any purposes whatsoever, including, without limitation, in advertising and marketing materials and in developing future products and services.

Judging Criteria.

Your Portfolio will be judged by Creators Class Members on creativity, technical ability, and relevance to the comic book-inspired theme.

Program Participant Selection

Two (2) applicants will be chosen to participate in the Program (each a "Program Participant"), who will be contacted by early September.

Program Participation Conditions. Complex will notify Finalists who are selected to be a Program Participant via direct message or email by early September. If selected, Program Participants will be required to commit at least [30] hours between [August] 2018 and [October] 2018 to participate in the Program. Any Program Participant who does not complete the Program shall be disqualified, and Complex may, in its sole discretion, choose another Finalist to replace the disqualified Program Participant. Program Participants will also be required to execute certain documents, including a publicity release, prior to participating in the Program. If a potential Program Participant fails to respond, or fails to execute all necessary documents, within three (3) days of receiving notification from Complex, Complex may disqualify the potential Program Participant and select a replacement. Participation in the Program is not transferable or assignable. Program Participants shall be solely responsible for all taxes associated with their participation in the Program. Complex shall not reimburse Program Participants for their time devoted to the Program or for any costs or expenses associated with participating in the Program, except as expressly stated in these Rules.

Applicant Publicity and Portfolio Release. By applying to participate in the Program, you grant permission to Complex, Unilever US, Inc., Pepsi-Cola Advertising & Marketing, Inc., and to their respective affiliates, licensees, and assignees ("Licensee Parties") to use your Portfolio and your name, likeness, and other personal characteristics for any purpose, including advertising and marketing materials, worldwide, in perpetuity, and in all forms of media now known or later invented without further compensation, and you waive all rights to notice or approval of such uses.

Applicant Indemnity and Release. By applying to participate in the Program, you agree to defend, indemnify, and hold the Licensee Parties harmless against all claims related to: (1) your participation in the Program; and (2) your application/ Portfolio. You also agree that the Licensee Parties are not responsible for any losses, damages, or injuries resulting from your participation in the Program.

DISCLAIMER. COMPLEX EXPRESSLY DISCLAIMS ALL EXPRESS AND IMPLIED WARRANTIES, GUARANTEES, AND REPRESENTATIONS WITH RESPECT TO THE PROGRAM, INCLUDING, WITHOUT LIMITATION, THE PROGRAM'S QUALITY.

Errors. Complex is not liable for typographical or other errors in these Rules, in the Program Participant selection, notification, and announcements, or in any other material related to the Program. Complex is not responsible for any error, omission, interruption, deletion, defect, delay in operation or transmission, network failure, theft, destruction, or unauthorized access to any systems associated with the Program.

Lost, Late, or Incomplete Applications. Complex is not responsible for late, lost, incomplete, or misdirected applications, including, without limitation, applications that are lost or incomplete due to computer or electronic malfunction or due to issues with internet connectivity.

Participant Information. When you apply to participate in the Program, you may be required to provide certain types of personal information, such as your name and email address. You will be providing your personal information to us. Your personal information will not be sold to third parties. Your personal information may be shared with third parties as necessary to administer the application process; in addition, it may be used for other purposes as further described in our Privacy Policy. By applying to participate in the Program, you consent to such sharing of your personal information. Your personal information may also be used to contact you in connection with your application in a variety of ways, including via direct message or email. By applying, you consent to receive such communications.

No Waiver. Failure by Complex to enforce any part of these Rules shall not constitute waiver of that part.

Governing Law. These Rules shall be governed in accordance with the laws of New York, without regard to its choice of law principles.

Program Manager. Complex Media, Inc. ("Complex," "we," "our," "us") is managing the Program. Please send any inquiries to [briskcreatorsclass@complex.com].